Have you ever dreamed of experiencing what it would be like to explore an ancient dinosaur world? If so, then the Jurassic World exhibition in Excel London is a must-visit for you! This exhibition provides visitors with a unique opportunity to explore a world of wonder and adventure. Here, you can experience all of the thrills and excitement that comes with discovering an extinct era as you step back into a bygone age.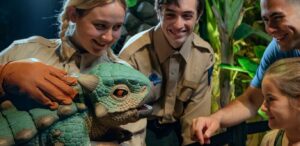 Don't Miss Out:
Make sure you book your tickets before they run out. Due to increased demand the event is extended till January 15th 2023.
Jurassic World at Excel London is an interactive experience that immerses visitors in the world of dinosaurs. The exhibition features life-size replicas of renowned species including Tyrannosaurus Rex, Triceratops, Stegosaurus, and more. You can even touch some fossils to get up close and personal with these extinct giants. As well as getting to meet some prehistoric creatures, guests can also explore interactive displays, watch educational videos, and listen to audio recordings from experts in the field.
In addition to exploring the exhibitions, visitors have the opportunity to learn more about dinosaurs through workshops and activities run by expert paleontologists. These sessions are designed to give insight into our planet's past while teaching children about science in a fun way. You can also grab snacks or drinks from one of the onsite food outlets before heading off on your next exploratory mission.
The Jurassic World exhibition at Excel is an exciting way for anyone interested in dinosaurs or history to spend their day. Whether you're looking for an educational experience or just want something fun and different to do during your visit, this exhibition is sure to provide thrilling memories that will last a lifetime! So what are you waiting for? Get ready for your prehistoric adventure today! Book your tickets before its too late.
Pricing:
The average price per adult is approx. £32.00 per person, and for children is approx. £21.00 per person.
Timings:
– On Mondays, Tuesdays & Wednesdays: 10 a.m. – 6 p.m. (entry gate closes at 5 p.m.)
– On Thursdays & Fridays: 10 a.m. – 8 p.m. (entry gate closes at 7 p.m.)
– On Saturdays: 9 a.m. – 8 p.m. (entry gate closes at 7 p.m.)
– On Sundays: 9 a.m. – 6 p.m. (entry gate closes at 5 p.m.)
Duration: 45 minutes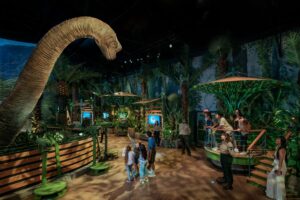 Well, if you got the tickets then below is the location.
Address:
ExCeL London
Royal Victoria Dock 1 Western Gateway,
E16 1XL
Things to try in London: